Organizing Gift Wrapping Supplies
Gift wrapping doesn't have to be stressful.
Are your gift wrapping supplies scattered all over your house?
All of us love to give gifts!  Almost as much as receiving them.  A well wrapped gift, that looks as though it took time and effort makes the receiver feel special.  While most of us have good intentions when it comes to gift wrapping, many of us are rushed and usually can't find everything we need to do the job correctly.  You end up deciding  "well it's good enough" even though you are extremely  creative and full of ideas.  Stop the madness I am here to help!
To prevent stress and to save you time and money, let's get your gift wrapping supplies organized.  Where are your gift wrapping supplies now?  Go on a scavenger hunt in your home and collect all of your gift bags, rolls of gift wrapping paper, ribbons, bows, tape, scissors and name tags.  If these things do not have a designated place in your home, you are wasting time and money when it comes to gift wrapping.  If you know you have it but you can't find it. (Time)….You don't know what you have and don't want to look for it,  you go out and buy new ones. (Money)  Stop the madness with these simple strategies:
Sort your items by gift wrapping rolls, gift bags, tissue, ribbons, bows ,etc.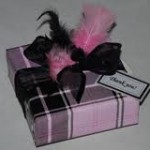 Now sort by occasion:  For example, I keep all of my Christmas gift wrapping supplies in separate containers.  These are stored away during the year, out of my way.  There are many ways to organize your gift wrapping supplies however I recommend that you have containers  that are long enough to contain rolls of gift wrapping paper.  Under the bed storage containers work great for these.  Label them with your labeling machine; Birthday for Adults, Kids' birthday, Valentines Day, Easter, Anniversary, generic, baby,  etc.  Place gift bags inside the appropriate containers with the rolls.  Use  separate containers for the following; ribbons, bows, tissue.  
Read here why I love labeling machines so much:A FEW OF MY FAVORITE THINGS #1
Regardless of the type of gift wrapping storage container you choose, make your life easier by separating the holiday or occasions.  This will save you a tons of time and money.  As far as the tape and scissors, don't go steal from the home office for these.  Have a roll of tape and a pair of scissors inside of each gift wrapping container.  Stack or hang your containers together and clearly labeled.  In one glance you will be able to find just what you need and be gift wrapping  in no time.
You will be amazed by how  organizing this one small project will give you a great since of satisfaction.  You will also be surprised by the gift wrapping supplies that were all over your house.  This is going to save you money!
See GETTING YOURSELF ORGANIZED FIRST for gift card storage.
Cool idea for gift wrapping….Build a fold in the paper to create a pocket for the card!!!
Shop My Amazon Links Below And
Find All Of Your Gift Wrapping Supplies Here:
I hope this article helps!  Thank you for your business.