Welcome To My Craft Room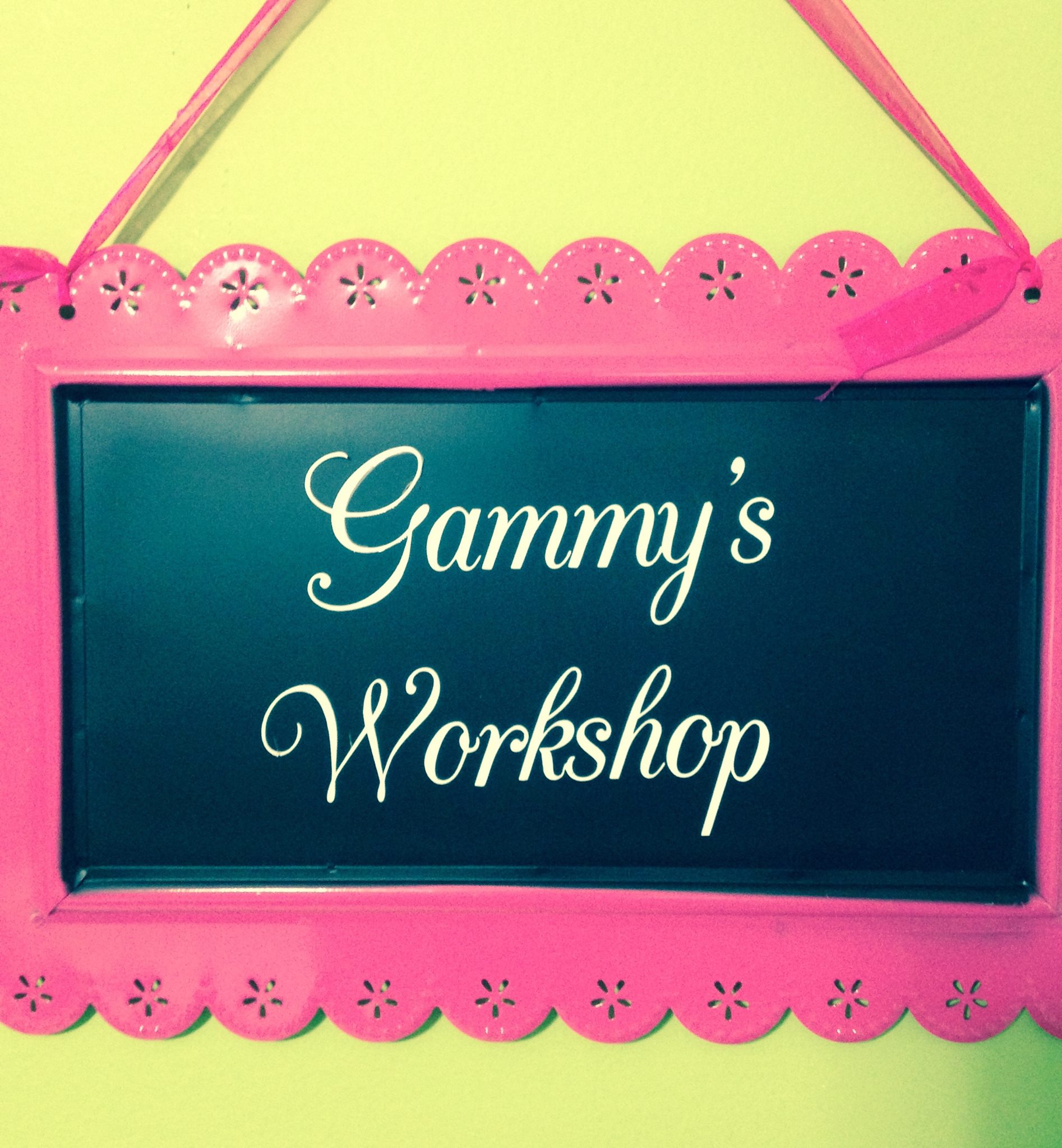 Now that I have an empty nest, I decided to convert a small bedroom into my sewing, craft, play room.  I love this space and I feel inspired to create every time I enter the room. You may think the color on my wall is a little wild, but I wanted lots of color!  The green is more toned down in real life.  The photos make it look blinding but it is not. The two large bookcases were a huge find.  The one on the left was purchased second hand from the person that custom built it.  It is almost 8 ft tall and 4 ft wide.  The shelf on the right was a hideously ugly piece that was being discarded at my husbands place of work.  (I wish I took before and after pics of it)  It's made of knotty pine and was stained with 70's looking oak.  When he drove up with it, I was like huh?  However, when he was finished with the paint and trim, it matched my other shelf perfectly. The farmhouse table was also a second hand find.  The black legs bring it together with my bookcases.  All together, I spent less than $225 for both bookcases and the table.  Works for me! 🙂 My next job was to organize my supplies in crisp, colorful containers.  Eventually the shelves on the left will be solid (green & cream) fabric bins.  They are a little pricey so I only buy a few at a time.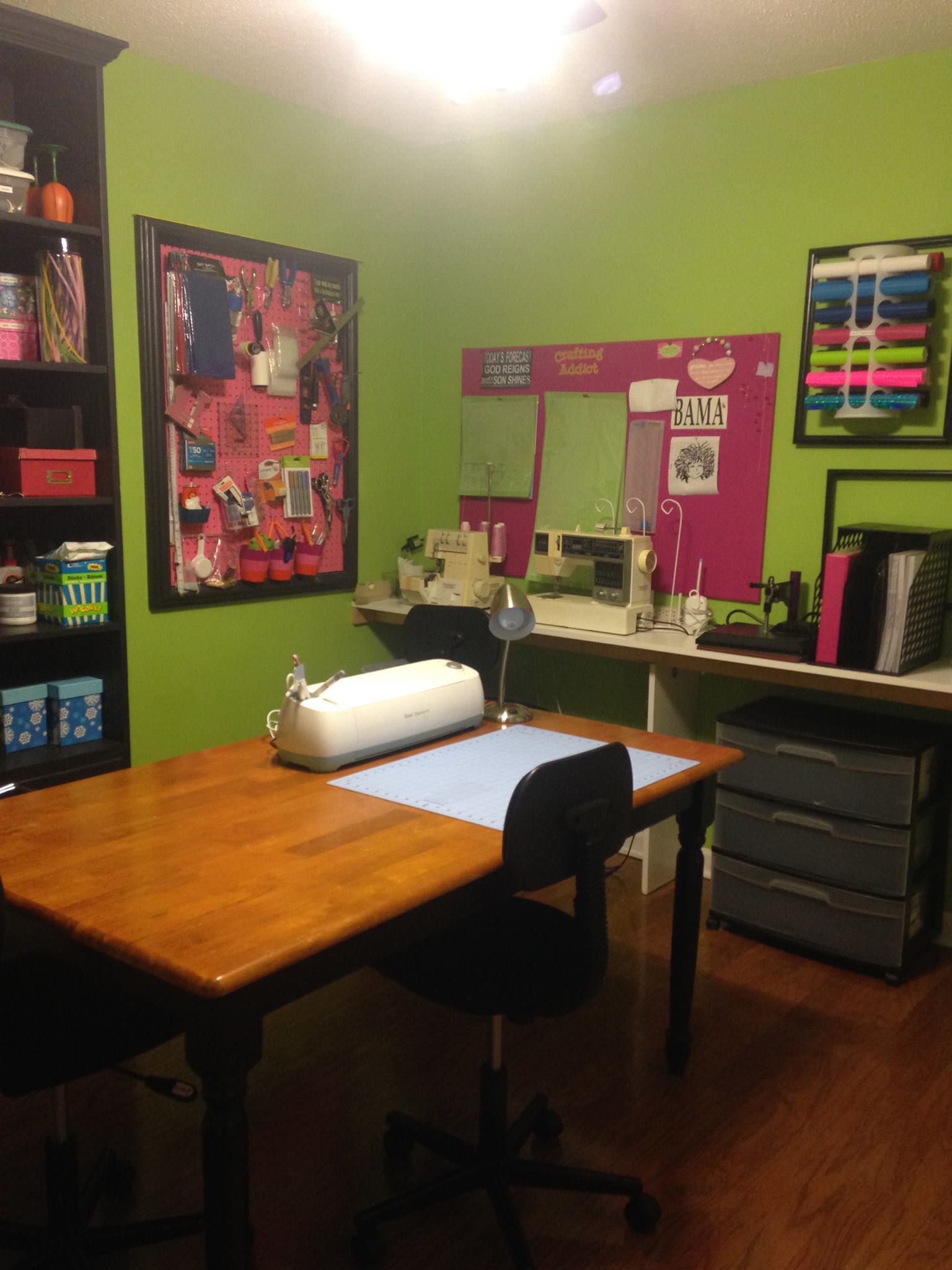 My peg board is framed with an old picture frame that was on the curb in someone's trash, that my husband found.  He painted it black and I sprayed the pegboard hot pink! Waa laa a girly pegboard!
And that beauty on the craft table is my new obsession, my new Cricut explorer Air!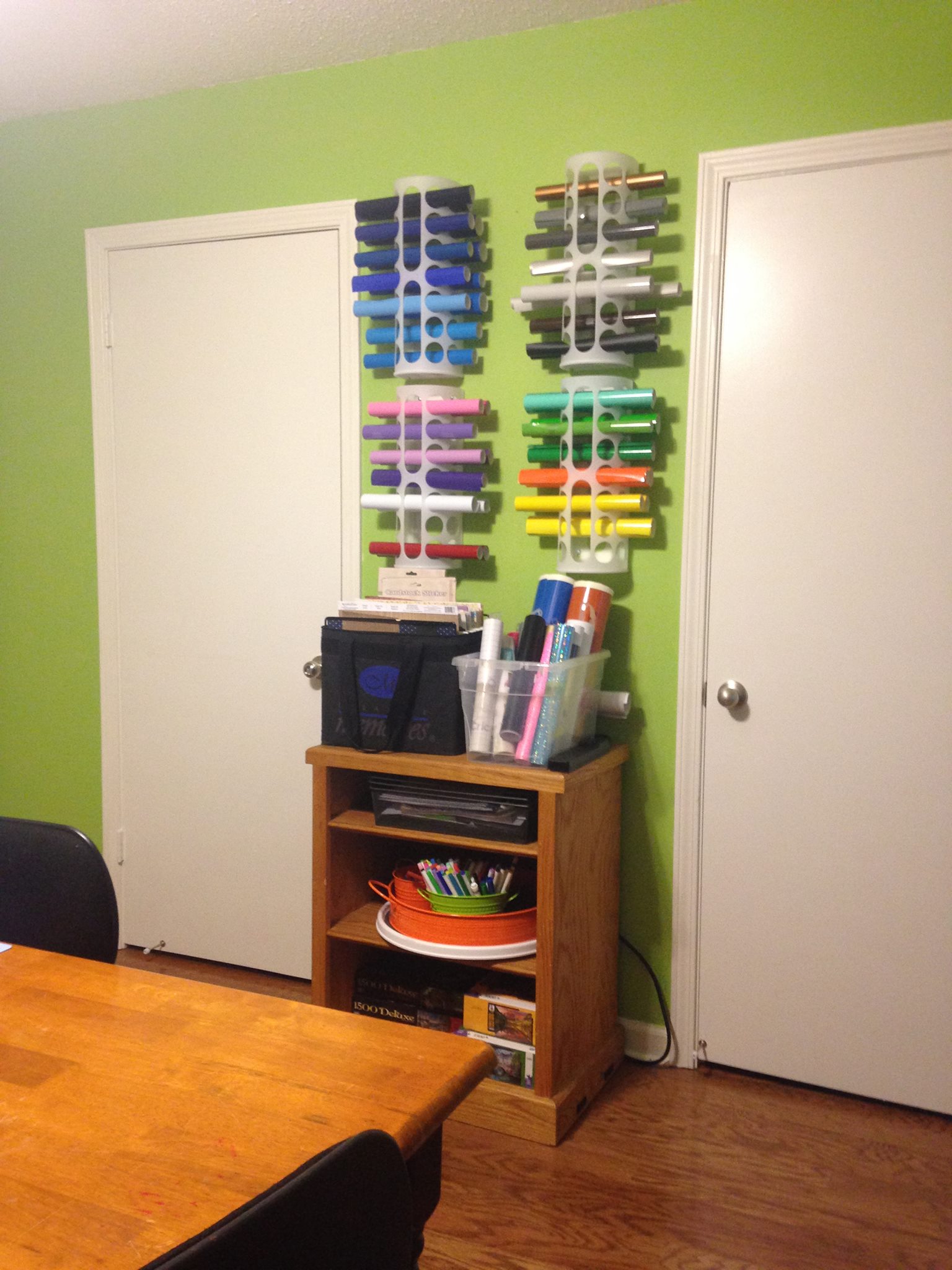 This is how I store my vinyl for my Cricut Explorer Air  Plastic bag holders from IKEA.  They work wonderful for small rolls.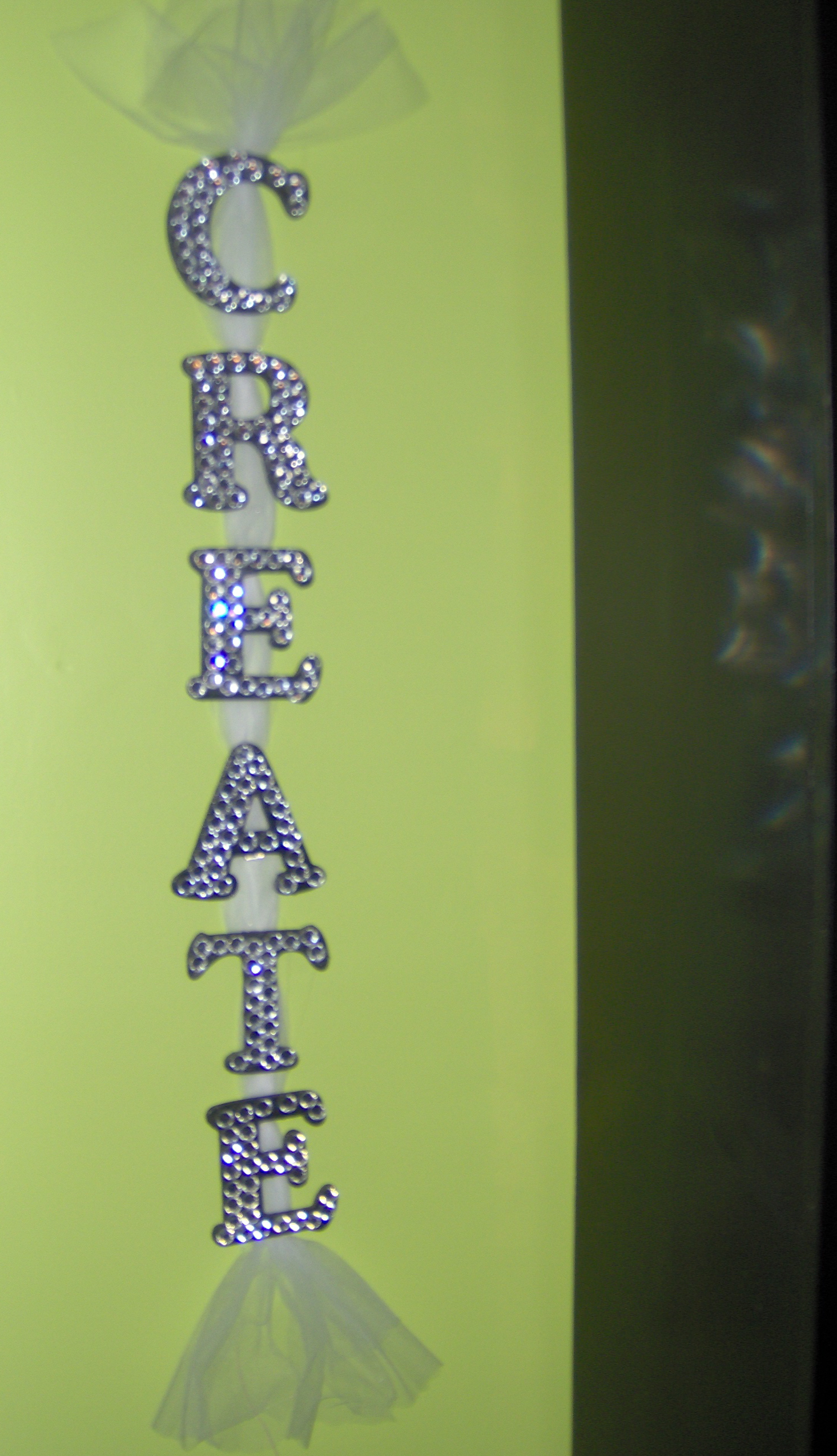 The create letters are simply wooden letters painted black.  I glued rhinestones to them for a little bling and attached them to a piece of soft tulle gathered at each end.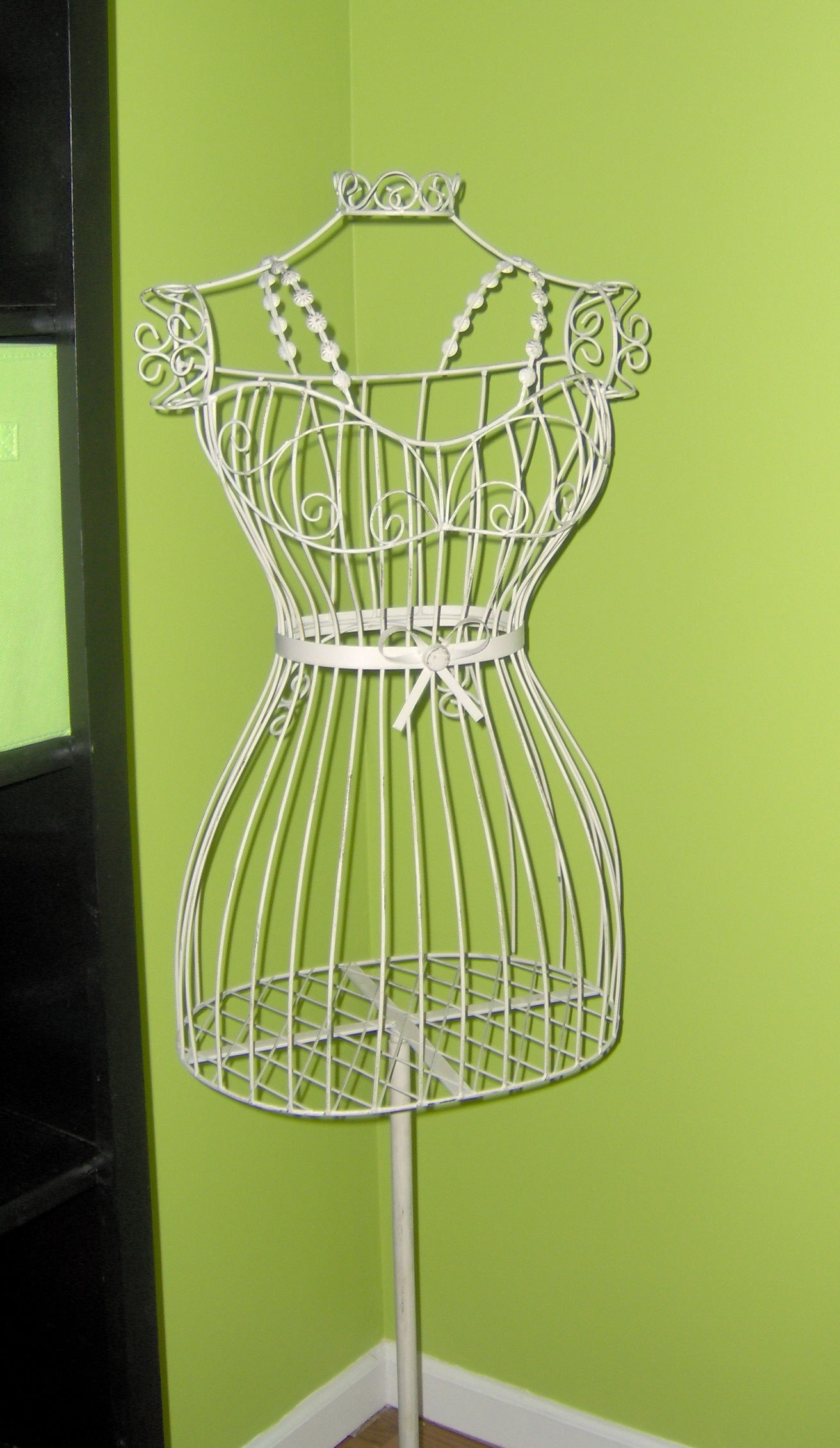 This was a frivolous purchase even if it was slightly damaged and on clearance.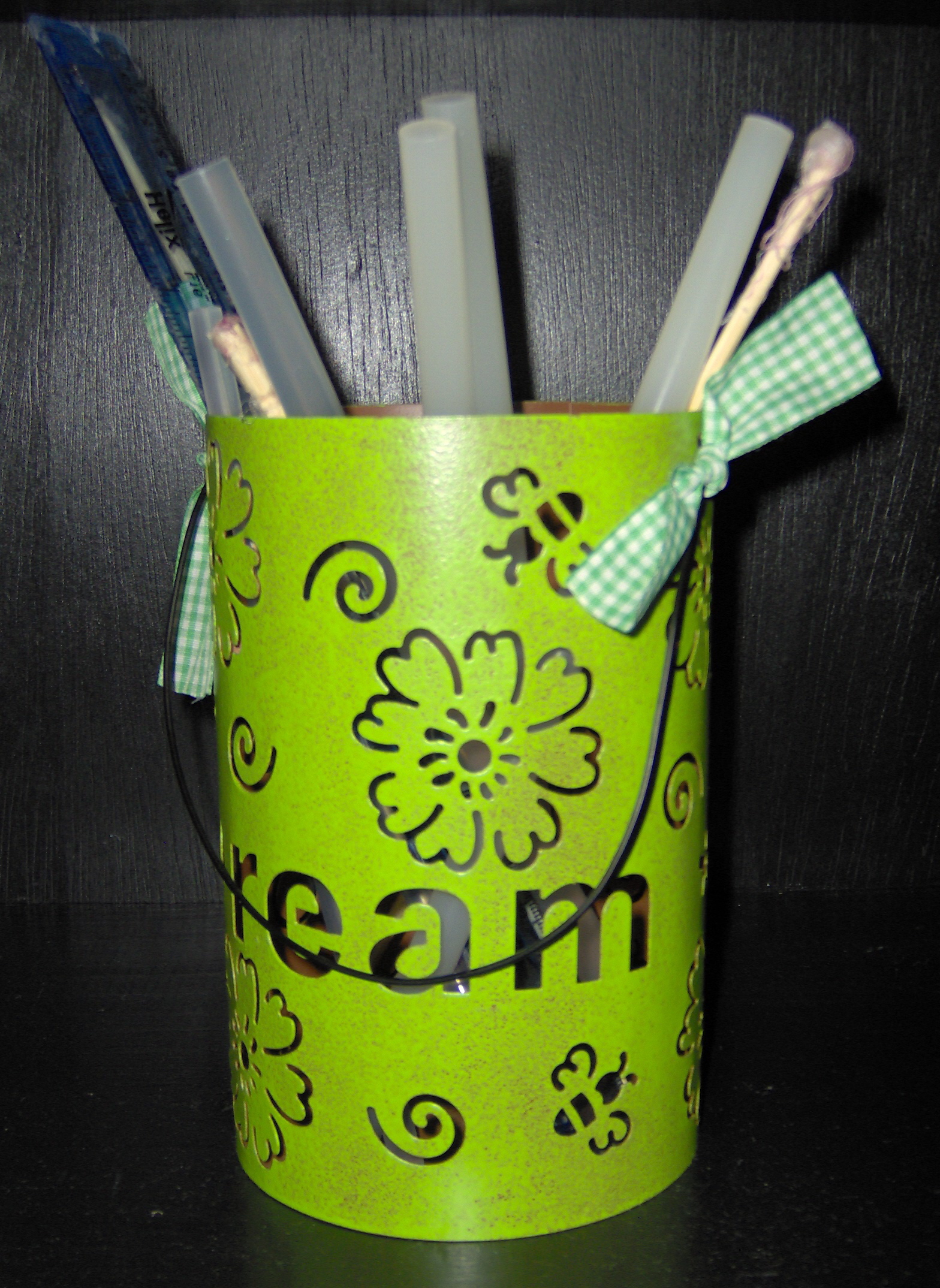 You may recognize this from my contest.  It is a candle tin that I use to hold my glue sticks.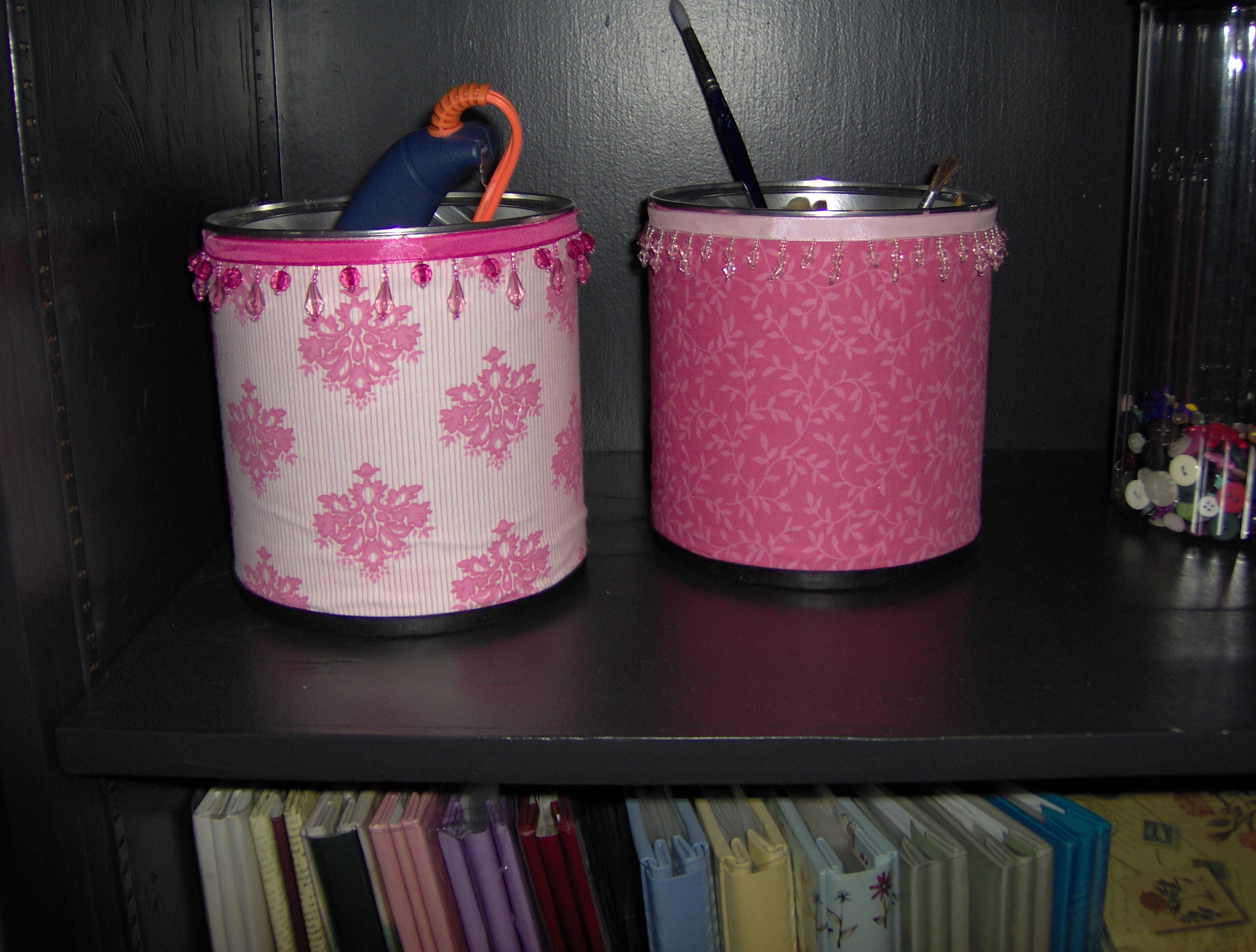 Coffee cans covered in fabric scraps.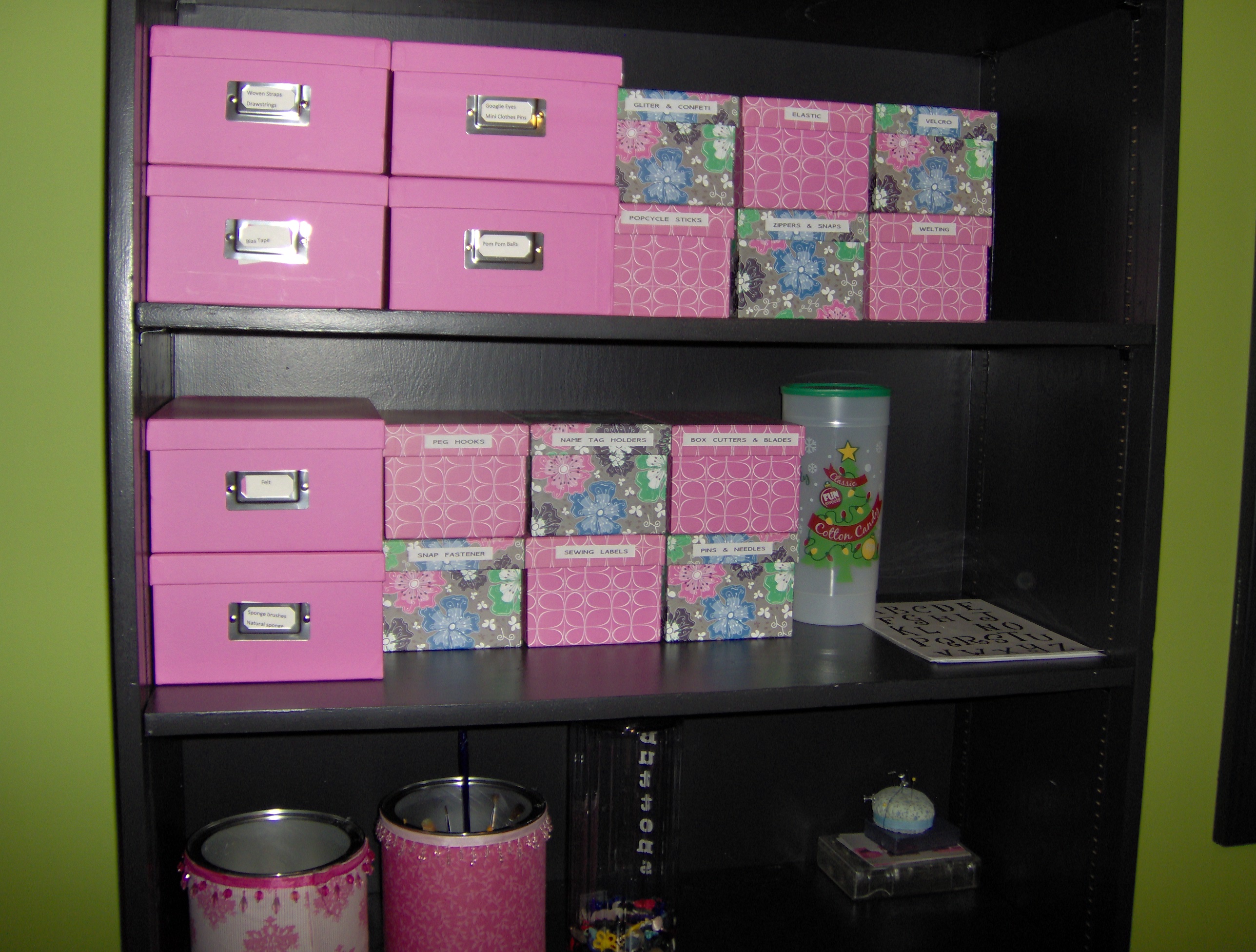 These organizing boxes were on sale at JoAnn's.  Each one is labeled so I can find things easily.
My husband built this narrow work bench to hold my old faithful machines.  It works perfect and doesn't take much of the room.  The board behind it is a covered bulletin board.
My sewing/craft room is and will forever be a work in progress.  I hope you enjoyed the photo tour and possibly inspired to make the room where you create a colorful and happy space.
PERSONAL STORY:  
When I was a little girl, I had a dream.  A burning desire for a playhouse in my backyard.  I knew, even at the young age of 5 or 6 to pray for the desires of my heart.  For some reason, I never told my mom or dad what I was praying for.  
Every night, I would pray fervently for that beautiful play house and every morning when I woke up I would run to the back window to look and see if it was there.  This went on for weeks.  I never lost faith.  I figured a playhouse this nice took time so I waited patiently.  I wanted it to be just right.  
As you may know, the playhouse never arrived and I eventually quit praying for it.  It boggles my mind that I never mentioned it to my parents.  Perhaps I was aware at that tender age that there was no extra money for such extravagance and decided to take matters into my own hands and take it to God.  –Oh the innocence of a child.–  
In hindsight, if my daddy had known that I was praying for a playhouse, he would have built me one if it took his last dollar. Many years later, when I shared this childhood memory with my husband, it became his desire to fulfill that little girl's dream of having a playhouse.  Hence, my sewing room.  50 years later, God answered my prayer and I now have a wonderful playhouse. (playroom).  God is good!
Thanks for visiting.  I would love to hear your thoughts!