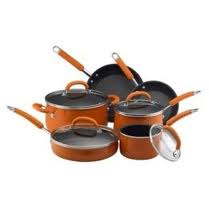 Organizing Pots And Pans
Is your pot & pan cabinet a mess?  Sometimes this cabinet in your kitchen can be the toughest to keep organized, especially if you have others helping you put dishes away.  Most of us spend a lot of money on our cookware only for them to get scratched up in the storage process.  When properly cared for, they will serve you well for many years.
But most important to me is to be able to grab what I need without digging through a cluttered cabinet.  Let's get this kitchen cabinet ship shape.  First, you know what I am going to say…..Empty out the entire cabinet and use your sorting bins see: ORGANIZING BASICS.  Just as I said in earlier posts, if you don't use it, get rid of it. Once you have the pans sorted, clean the inside and outside of the cabinet. This would be a good time to put fresh shelf liner
 down.
I recommend that you keep your non-stick cookware separate from the others.  These need to be protected from getting scratched.  Use pan protectors in between them for storage.  If you are short on space and need to stack them all together, make sure you protect them.
Place all of your skillets together, stacking them with largest on bottom.  The same with your sauce pans & cook pots.  By keeping them separated by category will help you find them easily and keeps the cabinet looking tidy.  Including space saving cabinet organizers will help you to maximize your space to it's fullest capacity without the clutter.
Now for those pesky lids that get scattered throughout the cabinet;  I use a large basket to house my lids.  I stand them on end from the smallest to the largest.  This makes finding what I need a snap.  It also helps when I have others helping with the dishes.  When you open my cabinet, you know where everything goes.  It takes an extra second or two to put the pan back in it's home, but it is very worth the effort.
For your larger items such as dutch ovens, soup pans, and any other item that you don't use every day,  keep them towards the back or store them at the top of your pantry to save space.
Seasoning your iron skillet and how to store it:  
If your skillet is new, wash with mild soap and water then dry.  Rub down the inside and the outside with Crisco shortening and back at 350 for several hours.  When cool, wipe the excess grease with a paper towel.  Place a clean paper towel inside skillet for storage.  The more you use your skillet, it will become more and more seasoned.
After each use of your iron skillet or pot, clean with soap and water and avoid scrubbing.  I like to use a plastic scraper to remove stuck on food.  NEVER LET YOUR IRON COOKWARE SOAK IN WATER FOR MORE THAN A FEW MINUTES, AND NEVER PUT IN DISHWASHER.  Once clean & dry, lightly rub inside with shortening.  Place clean paper towel inside for storage.  Important note:  Make sure it is completely dry before rub down and storage to prevent rust.