Spring Cleaning: Bedroom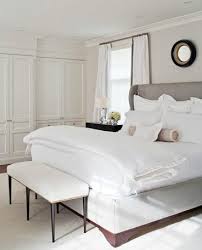 Okay organizers, it is time to get into Spring cleaning mode.  Here you will find an easy to follow list on how to
 deep clean your bedroom.  If you follow the list in order, it will save you time and energy!
Strip your bed down to the fitted sheet or mattress cover (leave it on for now)and remove all blankets, pillows and comforter to another room.  If your comforter, pillows and blankets are machine washable this would be a good time clean them as well.
Remove all accessories (picture frames, floral arrangements, alarm clock, etc.)
Clear away all trash or anything else that does not belong in the room.
Knock down all cobwebs
Dust ceiling fan and/or light fixture …Tip: Use pillowcase to dust fan blades.  Slip blade into case and wipe.  All dust falls into case!
Remove glass globes on light fixture and wash
Vacuum and/or dust blinds
Vacuum draperies or take down for cleaning
Wash inside of windows as well as window sill
Vacuum or dust all walls (a good washing wouldn't hurt)
Dust fronts and backs of all pictures hanging on the wall, and Windex the glass fronts
Dust the exteriors of all furniture in your room including the back,  yes even the treadmill
Dust lamps and vacuum lamp shades
If you have an upholstered chair or bench give them a good vacuuming
Dust and/or clean baseboards and vent registers
Move any furniture that you can and clean behind and under it
Carefully and slowly remove the fitted sheet from bed trying not to stir up the dust that has settled onto it.  Remove it from the room, shake it outside, and wash.  This keeps your mattress from getting dusty during the process
If you have carpet, vacuum everything thoroughly from the farthest point in the room and vacuum your way out.  Make sure to use your tool to get around the edges of your baseboards
Steam or shampoo carpet
If you have hardwood floors vacuum thoroughly and then clean with wood floor cleaner working your way out of the room.
Clean your accessories thoroughly before taking them back into your clean room.
Put fresh linens as well as  clean blankets, pillows & comforter back on bed.
Once the bed is made and the cleaning is finished lightly dust again to remove any settling dust.
Stay tuned for more Spring Cleaning projects!